GLS vs X7: A Rich Rivalry

The 2020 GLS "leans in even further to the idea that the GLS is the S-Class of SUVs" (Car and Driver, APR '19). The S-Class Family features: 
AIRMATIC® Suspension
LED Intelligent Light System
KEYLESS GO®
HANDS-FREE ACCESS
Active Parking Assist
64 Color Ambient Lighting
Wireless Charging
Burmester® Surround Sound System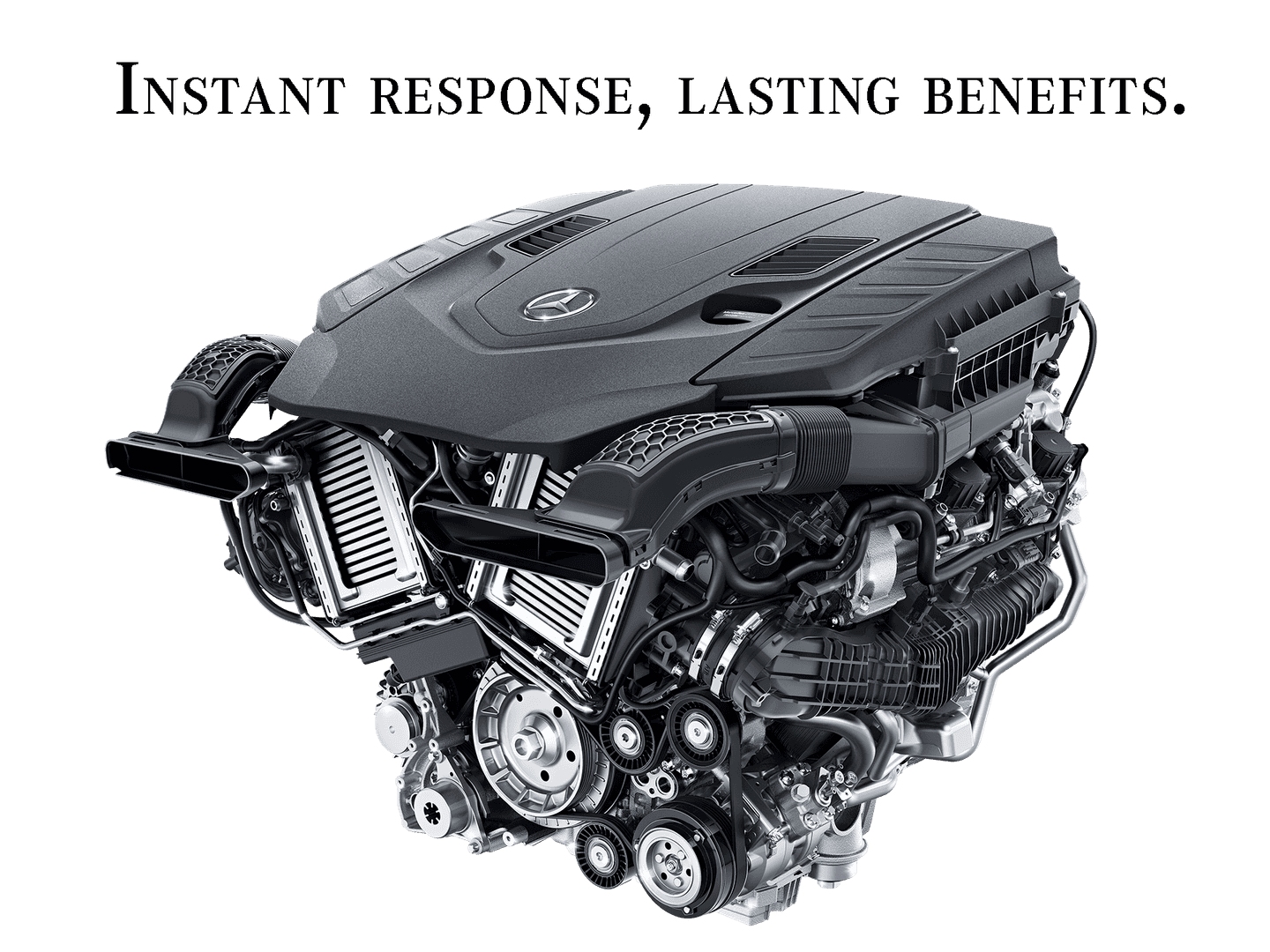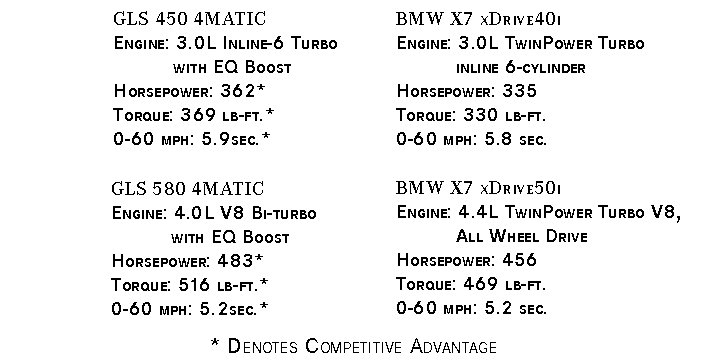 The many advantages of the 2020 GLS
The GLS SUV has a 23.8 gallon fuel tank which means less stopping on the road and on average can get up to 571 miles on one tank!
More USB-C ports (GLS has 9; X7 has 7)
HANDS-FREE ACCESS with KEYLESS GO®; X7 does not offer hands free access
The 2020 GLS is now longer, taller and has more cargo space behind the 2nd row compared to the 2019 GLS
Smartphone Integrations standard and at no cost; X7 only offers Apple CarPlay – and it is $80/year
Parking Assistance features standard; X7 offers Parking Assistance Package
Offers optional wireless charging and rear tablet in rear seats with Executive Rear Seat Package; not offered on X7
GLS Car Wash Mode is more advanced than X7's Car Wash Camera Function
GLS is almost 3 inches longer and 1 inch taller than the X7
23″ wheels (optional add on) on the GLS 580; these wheels are not offered on any BMW
GLS has a larger 3rd row window
What's New? 2020 is the year of more options
E-Active Suspension -> see it in action!

Optional system that creates even better ride and comfort agility

Make every seat, the best seat in the house

Offered with MBUX Rear Tablet that controls comfort and entertainment

MBUX: Mercedes-Benz Users Experience

WINNER of the 2019 Edmund's Tech Driven Award for "Most Innovative New In-Car Feature"

Captain's Chairs are now available at a $0 Cost Option – which have a 7 inch gap for easy access to and from the third row; X7 has a 3 inch gap 

No more climbing in and out or having to hassle with taking out a car seat!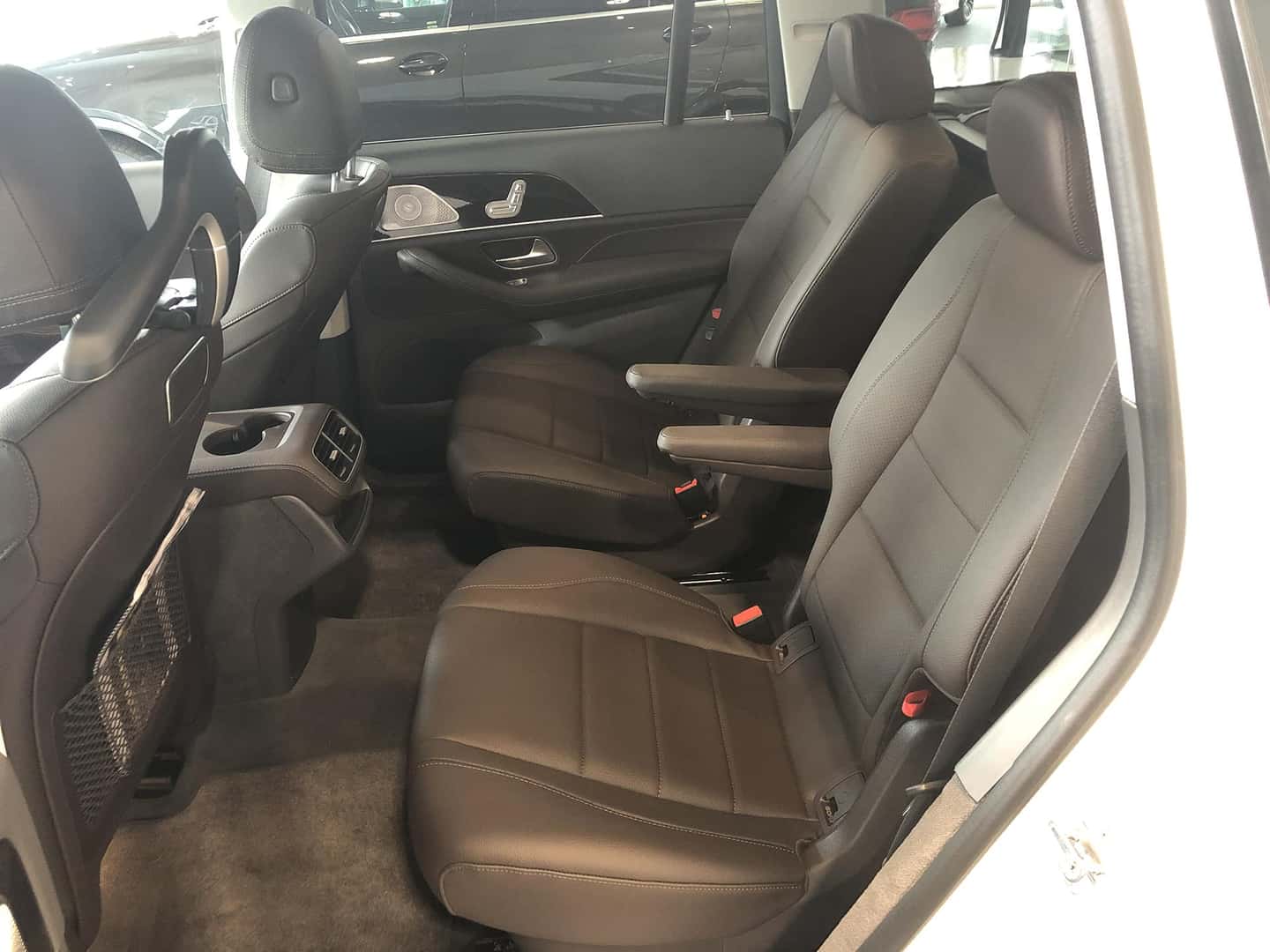 Car Wash Mode
Standard on all 2020 GLS Models
The 2020 Mercedes-Benz GLS SUV