4 Features that Make the Mercedes-Benz Metris an Attractive Van Option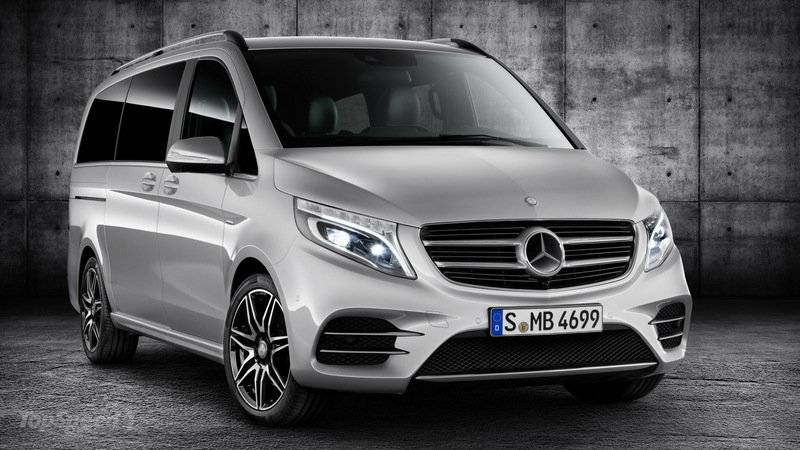 While Mercedes-Benz is most famous for its line of luxury automobiles, including class-leading sedans, coupes, roadsters, wagons and SUVs, they also offer several commercial vehicles, including cargo vans.
The Mercedes-Benz Metris is a small van that is available in both cargo and passenger models, with an efficient engine, car-like handling, plenty of space, and a size that is small enough to make maneuvering through crowded city streets easy.
Here are a few of the features that make the Mercedes-Benz Metris a great choice for either a roomy passenger van or a capable cargo hauler:
#1 Efficient Engine
An efficient engine requires less gasoline to drive the same distance, reducing fuel costs significantly, and it releases less pollution to carry the same load, which is great for the environment. The Mercedes-Benz Metris features an extremely efficient turbo-charged four-cylinder gasoline engine that is rated at a combined 23 miles per gallon for the cargo variant, and 22 miles per gallon for the passenger van. That makes the gas mileage equivalent to a smaller mini-van, while providing more space for cargo or passengers. To increase efficiency, and optional start/stop system is available, which shuts down the engine when idling to conserve fuel.
While many similar-sized 2.0 liter engines do not offer much power, choosing instead to maximize efficiency, the turbo-charged engine in the Metris allows it to be both efficient and powerful. It is rated at 208 horsepower and 258 pound-feet of torque, allowing it to carry heavy loads with ease and accelerate rapidly when required, such as passing slower vehicles on the highway.
#2 Seven-Speed Transmission
The Mercedes-Benz Metris offers a 7-speed automatic transmission that is both efficient and convenient to use, with several driving modes that allow the driver to customize the vehicle's performance, including a manual, sport, comfort and economy mode. The transmission shifts quickly, and significantly improves fuel economy.
#3 Large Interior Capacity
Vans are a great option when a large number of passengers must be carried or large amounts of cargo must be stored securely with protection from the elements. With the efficiency of a mini-van and the capacity of a larger van, the Mercedes-Benz Metris is perfect for carrying either passengers or cargo.
The passenger variant of the Metris can carry up to seven people comfortably when equipped with the two-person second-row seating option, or it can carry eight people when equipped with folding three-person second-row seating. Dual Sliding doors make it easy to enter or exit the vehicle, with optional electric power, and there is still room for 38 cubic feet of cargo.
The cargo version of the Metris features a full 186 cubic feet of cargo room, with a maximum cargo height of 55 inches and a maximum cargo width of 66 inches, with 50 inches available between the wheel wells. Without the optional load-through partition, maximum cargo length is 105 inches, or 111 inches with it. This is enough space to carry up to 75 sheets of standard 8-foot by 4-foot plywood, and the 37.8-inch sliding side door offers convenient access to load or unload cargo, in addition to the standard rear doors or lift-gate. The cargo van features one sliding door standard on the passenger side, with a another available as an option on the driver's side. Both cargo and passenger models feature roof rails for cargo storage, with a maximum capacity of 330 pounds.
#4 Advanced Safety Systems
Traffic accidents cause thousands of injuries and deaths every year in the United States, though technologies such as air bags and electronic safety systems are slowly reducing both the number and severity of accidents as they become more widely adopted. The Mercedes-Benz Metris offers several advanced safety systems, with several that come standard and others that are optional. Both the cargo and passenger versions offer driver and passenger airbags, including front, thorax and window airbags and the passenger version adds side-curtain airbags as standard equipment for the rear passengers.
Other standard equipment includes Crosswind Assist, which uses intelligent braking to mitigate the effects of crosswinds and keep the vehicle in the lane automatically, and Attention Assist, which monitors the actions of the driver and issues a warning if the driver seems to be sleepy or not paying attention to the road.
A load-adaptive electronic stability system monitors the vehicle for signs of traction loss, over-steer or under-steer and uses an intelligent braking system and engine controls to keep the vehicle stable if the roads are slippery or if the vehicle is skidding. The Brake Assist System provides maximum braking power during an emergency stop, and the Trailer Stability Assist system, standard on models with a towing package, uses an array of sensors and intelligent braking to prevent trailer sway and stabilize the vehicle.
Optional safety systems include a rear-view camera to help avoid backing into cars or people, blind spot monitoring to indicate when it is unsafe to change lanes and lane-keeping assist, that warns the driver when the vehicle drifts out of the lane. A collision-prevention system can warn the driver when a collision is imminent and increase the braking power, and an active parking system can help maneuver the vehicle into a difficult parking spot.
Other Features
The Mercedes-Benz Metris comes standard with an AM/FM radio that features iPod and USB connections, as well as Bluetooth® mobile phone and audio streaming capabilities. An optional navigations system is available, as well as a 4.2 inch LCD display. Other convenient features include rear air conditioning in the passenger variant, two front cup holders, plus two additional cup holders for the front passenger, automatic headlights, tinted rear windows with washers and wipers, and optional heated seats. The cargo variant features optional cargo tie downs and rails, as well as lighting for the cargo area.
All these features make the Mercedes-Benz Metris a comfortable and efficient vehicle for hauling cargo or people, and with its small size and small turning radius, it can comfortably maneuver into spaces that would be inaccessible to full-size vans.
Sources:
http://www.mbvans.com/sprinter/discover/product-highlights#metris
http://www.mbvans.com/sprinter/commercial-vans/metris-passenger-van
http://assets.mbvans.com/Mercedes-Benz-Vans/Brochures/2015-Mercedes-Benz-Metris-Van-Brochure.pdf
Source: New feed