The Story of My Dad

By Nick Saban
---
"Dad, the last time we spoke, I promised I would always strive to be the best.  I am honoring that commitment to you every day."    Nick Saban
---
Not a day goes by that I don't miss and think about my dad.  His passing at forty-six years of age seemed unreal and was devastating to our family; yet, he is always with me in spirit, in my heart, and in my mind.  We had a unique relationship because he was my dad, my boss, and my coach.  I loved him very much and want everyone to know that I wouldn't be the person I am nor have had the success I've enjoyed without the experience of dad in my life; he was my champion!  He set a standard of excellence and provided a set of values and direction for my life that I still follow today.
Everything I do, every choice, every decision is about striving to be a champion and it's all because of my father.
Dad was my greatest mentor and the foundation of my life.  His words, his dreams, and his actions greatly impacted me as a young boy.  I was always with him and, even from an early age, he took every opportunity to teach me a lesson.  If he went to the bank, I went with him; if he went to line-off the baseball field, I was helping; when he played sandlot baseball as an adult and/or coached a team, I was there.  We were inseparable.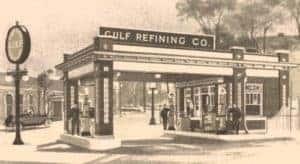 I watched as my dad took time from our Gulf service station to start Pop Warner Football in our area.  He purchased an old school bus (mom said we were more in need of a couch!) and we painted motivational messages on the bus.  Quotes such as, "When the going gets tough, the tough get going" or "Be kind to people on the way up; you may meet them on the way down!".  He drove that old bus into the little coal mining towns, up steep dirt roads, and down to the "hollars" loading up the youngsters for football practice; I made the round trip with him every time.  Dad made sure every child had food and clothing and we often shared whatever we had.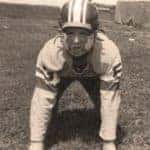 He was passionate about coaching and served as 'father' to all of the boys.  Dad was well respected by all in the community and state because he built great teams that seldom lost.  His success was based on his value of hard work, mental and physical toughness, and self-discipline while truly caring about each and every child.  Dad set the standard and everyone had to give their very best if they wanted to be part of the team.
Everything I learned from my father can be applied to a football program or to a business.  It starts with making decisions based on good core values, being accountable for your actions and, quite simply, lots of hard work!  There were times when I stayed out too late on a Friday night and the consequence was that I had to open our service station an hour earlier or thumbing a ride to church to serve mass, even though there might have been ten cars sitting around the station's parking lot.  I wasn't happy about it at the time, however, I get it now, and I appreciate the fact that my parents loved me enough to follow through with discipline.
---
There were three things for which there was no compromise with my Dad:  First and foremost, respect and treating others like you would want to be treated.  It didn't matter who they were, what status in life they held, what their career might be or what background they came from, dad always taught me to respect everyone.
My last butt lashing [with belt] came when I was 15 years old.  A homeless man came by the station every morning at 7:00 AM to get free coffee.  Once, when our team had played a game the night before, the man gave me some ribbing about how I played.  I told him to be quiet, in earshot of my dad.  As I proceeded to break down a tire on the tire machine, I was shocked by a swat from dad as he said, "I don't ever want to hear you disrespect an adult again."  That was the standard, to treat others as you would want to be treated.  Right before I left for college, I had been hanging out on the Second Street corner.  This corner was THE social center for everyone.  You learned a lot there, good, bad, and everything in between.  Dad told me, "You are going away and I never want you to hang out here again, however, at the same time, don't ever get to a point in life where you think you can't socialize with people who are on that corner."  In other words he never wanted me to feel more important than anyone else.  He taught me to be humble and to respect everyone.
Secondly, even though dad was very tough on me, I always knew he cared and had my best interest in mind.  He was my greatest advocate and, knowing how much he loved me, made his advice and direction even more valuable.  I could always count on dad to put things in perspective for me.  When I had an opportunity to play professional baseball out of high school, his response was, "No way!  You are getting an education first."  When I wanted to stay close to home to attend college, he advised it would be better to attend school out of state to develop maturity, cultivate new relationships, and to learn how to be successful on my own.  When our Pop Warner team won championships, he preached to us
"Success is never final, it's a continuation.  You need to focus on always doing the things that got you there, the things that made you successful."
The third lesson I learned from dad (albeit there were many more!) was to always do my best, and give it my all at whatever I was doing.  Dad knew I was interested in the car business upon graduation.  I was headed to GM school to learn the trade when my college football coach, Don James, asked me to be a Graduate Assistant at Kent State University.  Terry, my 7th grade sweetheart and wife of 45 years, had one more year of school to complete.  We promised our parents we would both graduate, so I accepted the GA position and enrolled in graduate school while Terry finished her degree.
---
The last conversation I had before dad died of a sudden heart attack was just after the start of my first season as a GA in 1973.  I told him I wanted to be a coach like him and he gave advice, as always, "I'm happy you want to be a coach, however, the expectation, no matter what you choose to do, must always be to do your best and to be the best."  I promised him I would always try … that was the last time we spoke.  I am so thankful I had my father as an example of uncompromising values, standards to live by and, especially, his love for me and compassion for others.
In 1998 Terry and I started Nick's Kids Foundation in memory of my father's work as a mentor to children.  His spirit of giving back has been the inspiration of our mission:  To work together in the spirit of faith and giving in our community, to promote and support children, family, teacher, and student causes.  It's all about the kids!  We consider it an honor to invest our time in hosting luncheons, golf tournaments, scrimmages, and other events to benefit the cause.  To date, Nick's Kids Foundation has distributed over $8 million to hundreds of deserving organizations and causes, including 16 Habitat homes and several playgrounds.  None of this would have been possible without my father's inspiration.  Dad's headstone recalls his legacy, "No man stands as tall as when he stoops to help a child."
---
In February of 2018, the all-new Mercedes-Benz of Birmingham Irondale Campus will open. We are dedicating our new facility to the memory of my father, Nick Saban, Sr.  A plaque in his honor will adorn our new facility and serve as an inspiration to our staff and an uncompromised commitment of excellence to our customers, in everything we do, every day!   "Dad, this is for you!"
Live the Dream!
Nick Saban